Wired and Wireless DNC
(Click on thumbnail to enlarge)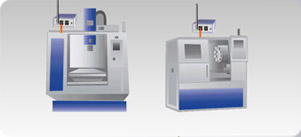 At eNETDNC, we provide both wired and wireless Ethernet based CNC file management solutions. As the use of CNC technology in machining has grown drastically, production managers have found themselves burdened with managing multiple machines and program revisions. Providing a single source for storing all files that is accessible from all CNC machines as well as the front office reduces set-up time and ensures documentation is always up-to-date. Software features tapered access, allowing operators to log-in and access programs on the machine, while still protecting files from unauthorized editing. If a file is modified, it is saved as a new revision, guarding against unintended edits. An easy compare feature allows engineers to view the program revisions side by side for instant analysis.
An unlimited number of machines can be linked, including machines in different facilities around the globe. One of our global customers uses eNETDNC to maintain program files for its facilities here in the US as well as their overseas manufacturing plants. All engineering changes are immediately implemented across all facilities and keeping documentation in line with ISO and other quality management system standards.
The first DNC systems on the market were cumbersome and required special training to operate. Our advanced networking systems are designed for maximum compatibility to existing networking infrastructure and are very user friendly. Software can be designed to work on existing networks, or we can provide the industrial grade hardware needed to establish or expand a network. Everything is connected through CAT-5 cabling and/or a standard 802.11 Ethernet signal. All hardware includes high-voltage surge protectors to protect expensive machinery.
In addition to file management, eNETDNC systems are equipped with a file editor complete with 2-D and 3-D backplotting capabilities. This user friendly editor allows engineers to pinpoint any machining issues by graphically representing the tool path. We have a network of sales and support staff available throughout the US to assist customers with tailoring a DNC package to fit their operations. For more information about our wired and wireless DNC solutions, see the table below, or contact us directly.
Wired and Wireless DNC Specifications:
Product Name

Wired DNC Networking Solutions and/or
Wireless DNC Networking Solutions
Function

CNC Program File Management
Hardware Features

Industrial Grade Components
Standard Cat-5 Cabling

Surge Protection Up to 20 kV
Made in the USA
Software Features

Based on Standard 802.11 Ethernet
Plant-wide Accessibility
Tapered User Access Capabilities
Real-Time Monitoring
Automated Notification/Alert System CNC File Editor with Revision Protection

Network File Back-Up Capabilities
Compatible with All Brands of CNC Machinery
Compatible with Standard Network Security
Language

C++
Operation System Compatibility

All 32-Bit Microsoft Windows Systems
All 64-Bit Microsoft Windows Systems
Windows 98
Windows NT
Windows 2000

Windows XP
Windows Vista
Windows 7
Windows 8



Benefits

Increased Production Efficiency
Data Acquisition on Machine Status

Operator Accountability
Revision Tracking for QMS Compliance
Additional Information
Industry Focus

Machine Shops
Tool & Die Shops

Manufacturing
OEM